1
QCAT may issue directions to the parties
After an application or referral is made, a QCAT decision-maker will assess your application or referral and issue directions (instructions) to the parties on how the case is to proceed.
A QCAT decision-maker may issue further directions to parties throughout the course of a case to ensure parties have filed sufficient evidence so QCAT can determine the case at final hearing.
The directions may include:
a requirement for party/s to respond to the application
a requirement to file evidence, reports and submissions
decisions about legal representation, non-publication and other miscellaneous matters
scheduled dates for proceedings
Please view a sample set of interactive directions below so you can understand steps QCAT may direct you to complete throughout the life of a case. You can click the icons in the sample set to learn more about how to read your directions.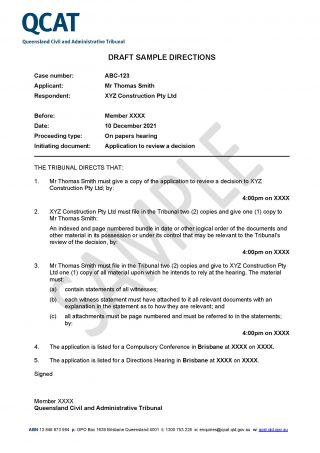 QCAT issues the directions with due dates that the parties must comply with. If a party does not comply with these due dates, delaying the process, QCAT can make orders against the non-compliant party such as:
costs orders for delaying the process
guillotine orders dismissing the matter
orders to progress the matter to final hearing
If you believe another party has not complied with the directions, you can notify QCAT in writing of the non-compliance.
If you are unable to comply with directions at any stage, you can request an extension to the compliance dates. Please see step 6 below for more information on how to make this request.
2
QCAT requires a response from the respondent
3
Filing evidence and other material to support your case
In addition to the application and response, parties will need to file evidence and other material to support their claim or defence. This may include filing statements of evidence, witness statements, expert reports, electronic evidence, documents and submissions.
You may attach evidence with your application or response. QCAT may also direct you to gather, prepare and submit evidence to support your claim.
You can also ask QCAT to order a third party or external agency to provide material they have in their possession or direct an unwilling witness to attend the hearing to give evidence.
You can learn more about preparing and filing your evidence and witnesses here.
4
QCAT will organise a proceeding
Depending on the type of dispute you are involved in, QCAT will provide an opportunity for parties to settle the matter or more clearly define the agreed and disputed issues. QCAT can direct parties to attend a mediation or compulsory conference for this purpose.
If the case cannot be resolved, QCAT may hold a directions hearing to set out a schedule for filing any other necessary evidence and hearing dates that all parties must comply with.
QCAT may require the parties to attend an oral or on papers hearing to present their case where a final decision is made. Sometimes QCAT will conduct telephone or videoconference hearings if appropriate and you will be notified of this.
A range of factors may impact upon the length of time to wait for a hearing, such as the complexity of the particular case, parties' non-compliance with directions and the availability of a venue.
The QCAT hearing will be held at the hearing rooms on level 10 at 259 Queen Street Brisbane, at a Magistrates Court or other appropriate venue in regional Queensland.
You can learn more about the types of proceedings you may be required to attend and how to prepare yourself here.
5
QCAT will send you a notice of a proceeding
Parties will be directed to attend various proceedings such as a directions hearing, compulsory conference, mediation or final hearing.
Before the proceeding, QCAT will send a written notice to the parties with details of the proceeding type, date, time, place and what you need to do or bring to prepare yourself.
The person who is the applicant must attend or QCAT may decide to dismiss the application if a reasonable excuse is not provided for their absence.
The person who is the respondent in the matter must also attend or QCAT may make orders or decide the matter in the absence of the respondent.
6
You can make requests to QCAT before a final hearing
Parties may request QCAT to approve various actions or decisions during the course of the case including:
extending compliance time limits
joining parties to a proceeding
attending telephone or video proceedings
making orders/directions by consent
making non-publication or confidentiality orders
adjourning a proceeding to another date
requesting third parties to produce material or witnesses to attend proceedings (fees payable)
If you make one of these requests, you must serve the other parties with the application. Parties are normally asked to provide submissions on the request before QCAT makes a decision.
You can learn more about requesting these actions or decisions and the process to do so here
7
Legal representation and support can be requested
Parties may obtain legal advice or assistance at any stage throughout the course of their matter. Lawyers can help parties collect and prepare evidence and documents, write submissions, and prepare for the hearing.
In QCAT proceedings and hearings, parties generally must represent themselves, without their lawyers present.
However, you can ask QCAT for permission to be legally represented or have someone else act on your behalf in the hearing. In some matters you do not require permission from QCAT to be represented.
You can learn more about appearance at proceedings and representation here
If a party requires special assistance to enable them to properly participate in proceedings, please advise QCAT in the application or response form or via email as soon as possible so appropriate arrangements can be made, including requiring:
an interpreter
space to accommodate wheelchair access or other mobility aids
a hearing loop
special arrangements to feel safe in a hearing (for example, if the parties to a matter are experiencing domestic and family violence)
non-publication orders if a party has concerns about personal safety and their identity or address being disclosed
8
A final decision will be made
QCAT will hold a final hearing if parties cannot settle or resolve the matter.
A QCAT decision-maker will make the final decision in any of the following ways:
at the hearing orally, including delivering their reasons for decision orally
at an on papers hearing without the parties present; or
reserve their decision and make the decision with written reasons after the hearing
If an oral hearing is scheduled, the parties must attend, present their case and bring witnesses to give evidence if required.
If an oral decision is delivered, it will be put in writing and sent to the parties after the hearing.
If the decision was made on the papers or reserved, the decision and reasons will be delivered in writing and sent to the parties when handed down by the QCAT decision-maker.
Parties can also request a transcript of the proceeding including the oral reasons, make claims for costs or appeal the final decision.
You can learn more about whats happens after a final hearing or proceeding here.
9
You can resolve the dispute privately or withdraw your matter
QCAT's purpose is to provide a quick, inexpensive avenue to resolve disputes between parties and make decisions. However, making an application to QCAT does not stop the parties from resolving their dispute privately or discontinuing the matter.
Parties can resolve the dispute independently by approaching the person you are in dispute with and negotiating a solution privately. If you are unable to reach an agreement between yourselves, you can contact your local Dispute Resolution Centre to assist with resolving the dispute informally. Please note that you can only do this in specific matter types.
You can also withdraw your application at any stage during the process. For example, the matter may be resolved in mediation so there is no need for a final hearing or you have considered the merits of your case and wish to discontinue.
Please note in some cases, permission to withdraw your matter may be required by a QCAT decision-maker.
If you have resolved your matter or wish to discontinue, learn more about the withdrawal process here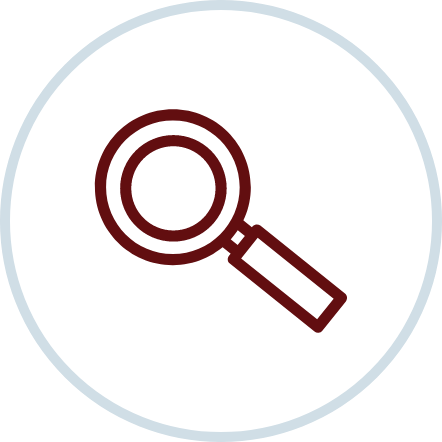 Return to Case Type?
Find more information about your previously viewed case type.